Endovenous laser ablation treatment focuses on the large veins that cause unsightly, bulging varicose veins, usually on your legs. "Endovenous" refers to the inside of your veins, as the laser directs amplified light energy inside your veins. "Vein ablation" means the laser destroys a vein in a way that causes it to shrivel away.
To put it all together, endovenous laser ablation refers to the process that uses lasers placed in your vein to destroy it from the inside. Since venous ablation, also called EVLA or EVLT treatment, is minimally invasive, the procedure can be done in your NYC vein center.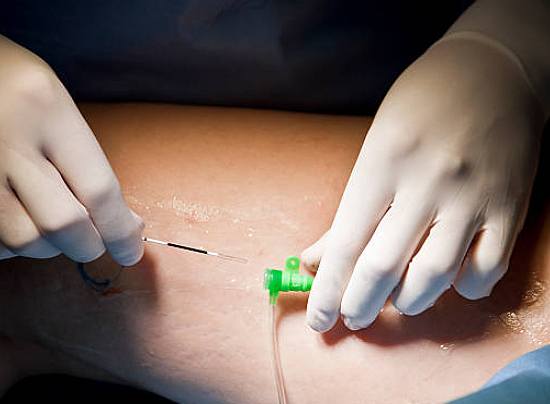 ENDOVENOUS LASER ABLATION PROCEDURE
This is a completely safe procedure. If you have concerns regarding the consequences of destroying a vein, you do not need to worry. When deep-seated veins become enlarged enough to cause varicose veins, they are no longer healthy and may even be hindering healthy circulation. In fact, it's safer than vein ligation, which is the surgical removal of varicose veins.
Removing a vein also relieves the symptoms associated with varicose veins, such as ankle swelling, tired legs, venous eczema, skin discoloration at your ankles and venous leg ulcers. The minimally invasive venous ablation procedure follows certain steps:
After sterilizing and prepping the incision site, the area is numbed with a topical anesthetic.
A small incision is made and your doctor inserts hollow needle called a cannula, through which laser is inserted into the faulty vein.
An ultrasound is used to verify its position in the correct vein.
The laser slowly heats so that enough energy flows into the lining of the vein, damaging the walls and causing them to eventually shrink and close off the vein.
After several minutes, your doctor removes the probe and applies a small dressing.
You should keep the prescribed compression bandage in place for one week after the procedure as part of your endovenous laser ablation recovery.
Varicose Vein Treatments Center
Midtown office:
51 East 25th Street, Ste 432
New York, NY 10010
(212) 389-1326
Upper East Side office:
983 Park Avenue, Ste 1D12
New York, NY 10028
(212) 389-1333