Overview: Diabetic Foot
Diabetes is one of those dreadful diseases which do not have any treatment and can only be managed with medications, dietary control, exercise, and precautions. Uncontrolled diabetes damages many other parts of the body including feet. Any injury or lack of foot care may cause diabetic foot.
Diabetic foot problem appears due to persistently elevated blood sugar levels due to which nerves and blood vessels get damaged and give rise to:
It appears as loss of any sensation or numbness and lack of feeling of pain in feet. Patients with diabetic neuropathy do not feel irritation and pain due to injury. Lack of foot care may lead to the development of sores or blisters which invariably get converted into ulcers and pose a serious risk of infection.
Incidences of diabetic neuropathy in India are increasing due to:
Increasing number of diabetics

Lack of awareness toward diabetes and its consequences
Despite the best treatment facilities and medication, diabetic neuropathy in India has emerged as a serious threat to diabetics.
Peripheral Vascular Disease causes changes in blood vessels due to the deposition of fatty matter in the walls of blood vessels.
This may result in inadequate or lack of blood supply to extremities i.e. lower limbs and feet. The reduced blood supply leads to reduced levels or absence of oxygen to the affected area that may make the healing process of foot ulcers or sores even more difficult.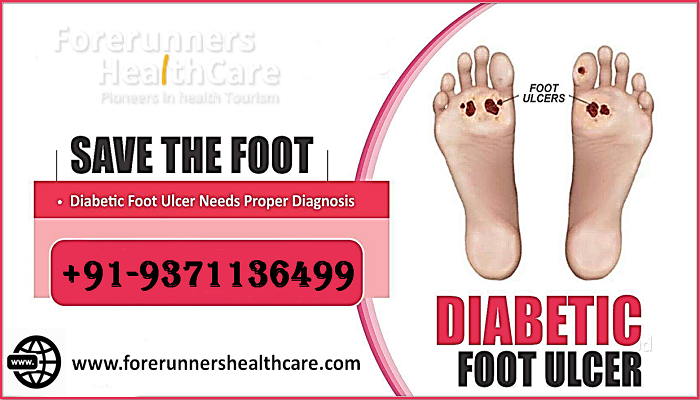 In addition, the probability of getting a diabetic foot problem increases due to the risk factors like:
Poorly fitting shoes

Athlete's foot - a fungal infection of the skin or toenails

Ingrown toenails

Toenail fungus

Calluses due to high-pressure areas under the foot

Changes in skin
In order to prevent the development of the diabetic foot, clinicians try to control your diabetes to safeguard against the development of Diabetic Neuropathy and Peripheral Vascular Disease.
Treatment of diabetic foot is based upon the condition of a foot of patient which may be:
Nonsurgical – that emphasizes the maintenance of glucose level and foot hygiene.

Surgical – is usually done by a team of doctors with a multidisciplinary approach.
During surgical procedures, surgeons' team performs surgery for
Revascularization of the foot,

Endovascular surgery for placement of stents to keep blood vessels open and

Debridement surgery to save the foot.
There are many highly qualified and experienced doctors who are performing the best diabetic foot surgery in Indiawith skill and precision.
Why India for Advanced Diabetic Foot?
Owing to world-class hospital infrastructure and treatment facilities at much lower cost besides most efficient surgeons, India is has become a most favored destination for advanced diabetic foot surgical treatment.
Which are the best Diabetic Foot hospitals in India?
Some of the best hospitals for diabetic foot surgery in India are:
Apollo Hospitals, Chennai

Fortis Hospital, Delhi

Indraprastha Apollo Hospital, Delhi

Max Super Specialty Hospital, Delhi

BLK Super Specialty, Delhi

Artemis Hospital, Gurugram

Global Hospitals, Mumbai

Nanavati Hospital Mumbai

Fortis Hospital, Bangalore

Columbia Asia, Bangalore


How much does it cost for Diabetic Foot treatment?
The cost of Diabetic Foot Surgery in India depends upon
Status and expertise of doctor/s

Type of hospital

Stage of diabetic foot

Procedure for surgery

Number of days of stay in hospital

Medication

Other medical facilities availed
However, the best diabetic foot surgery in India, even in the best of hospitals, is far more economical than other developed and neighboring countries.
Why Sharjah Patients looking for Diabetic Foot in India by Forerunner Healthcare?
Like other International patients, Sharjah patients looking for diabetic foot surgery in India through forerunners are given priority appointments and facilities of Tele-Consultation.
Though spending money for the treatment by affluent Sharjah patients is not an issue yet Forerunner makes the best possible arrangement to get the surgery done at the most reasonable cost.
Forerunner helps them in obtaining a medical visa, currency exchange and translator besides providing best medical and nursing care due to which Sharjah patients prefer India for diabetic foot surgery.