When you're tired of living with pain and discomfort, visit your hammer toe doctor in Midtown NYC. A highly experienced hammer toe specialist Dr. Sophia Solomon is ready and able to change your life for the better by resolving your hammertoe problems. Get the hammertoes treatment you need in the safe, reassuring hands of the best rated hammer toe surgeon in NYC. Not everyone needs hammer toe surgery, but if you do, come see the office and meet Dr. Solomon, a leading toe doctor in New York.
Hammer Toe Surgery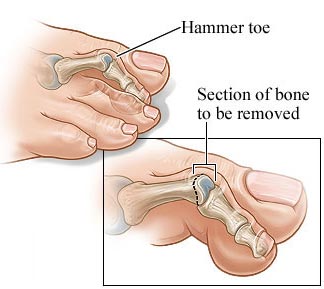 A hammer toes is a toe that curls or is buckled. This condition can be very painful and make fitting into shoes difficult. This deformity can cause skin lesions where infection introduction can occur mainly seen in diabetes or those with poor circulation. See a Manhattan hammer toe surgeon or foot doctor in New York sooner rather than later to treat this uncomfortable condition.
People ask NYC podiatrist every day to explain what caused their toe to become bent like this. This deformity occurs when the muscles that stabilize your toes lose the delicate balance among them and start to overpower each other. This causes your toe to bend or become stuck in a curled position. This can become painful because the contracted toes bump against the top of your shoe. The ball of the foot can also become painful since the toes are not carrying any weight as they contract off the ground. It's possible for less invasive methods to help, but if your case is serious, your NYC podiatrist may recommend hammer toe surgery.
Working Hours:
Monday: 8:30 am - 6:00 pm
Tuesday: 8:30 am - 6:00 pm
Wednesday: 8:30 am - 6:00 pm
Thursday: 8:30 am - 6:00 pm
Friday: 8:30 am - 6:00 pm
Saturday:CLOSED
Sunday:CLOSED
Manhattan Foot Specialists
51 East 25th Street, Ste 409,
New York, NY 10010
+1 (212) 389-9918
https://www.footdoctorpodiatristnyc.com